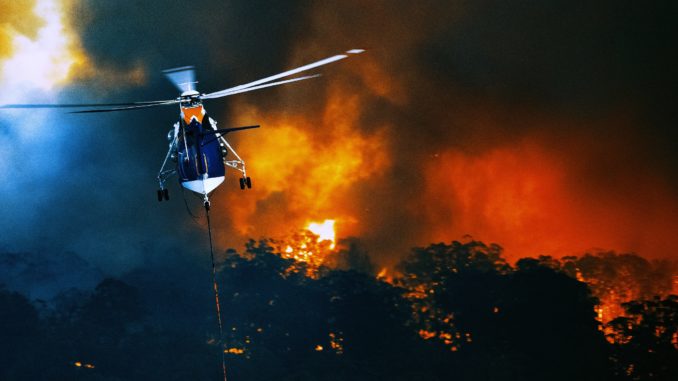 One thing that I have heard from many of my friends is that they feel incredibly helpless as we watch our country literally burn. Many of them wanted to help, but they do not know how best to help and donate to the fire-fighting and recovery effort. This is when I realized that it is important to spread the word around. So, today's post is dedicated to this cause. I have accumulated a list of all the organizations that are working on getting help from the common people.
I have a 12000+ Linkedin network and a good number of connections on other social platforms. Even if this post results in 12 people making donations to any of the below organizations, my purpose of this post would be fulfilled.
Bushfires have been ravaging the country for months, devastating towns, rural communities, and livelihoods. Tens of thousands of people have fled from the fire-ravaged regions of New South Wales and Victoria.
This is a 3D "visualization" of the fires in Australia, made from NASA satellite data. 
These are all the areas that have been affected, but not all the areas are still burning.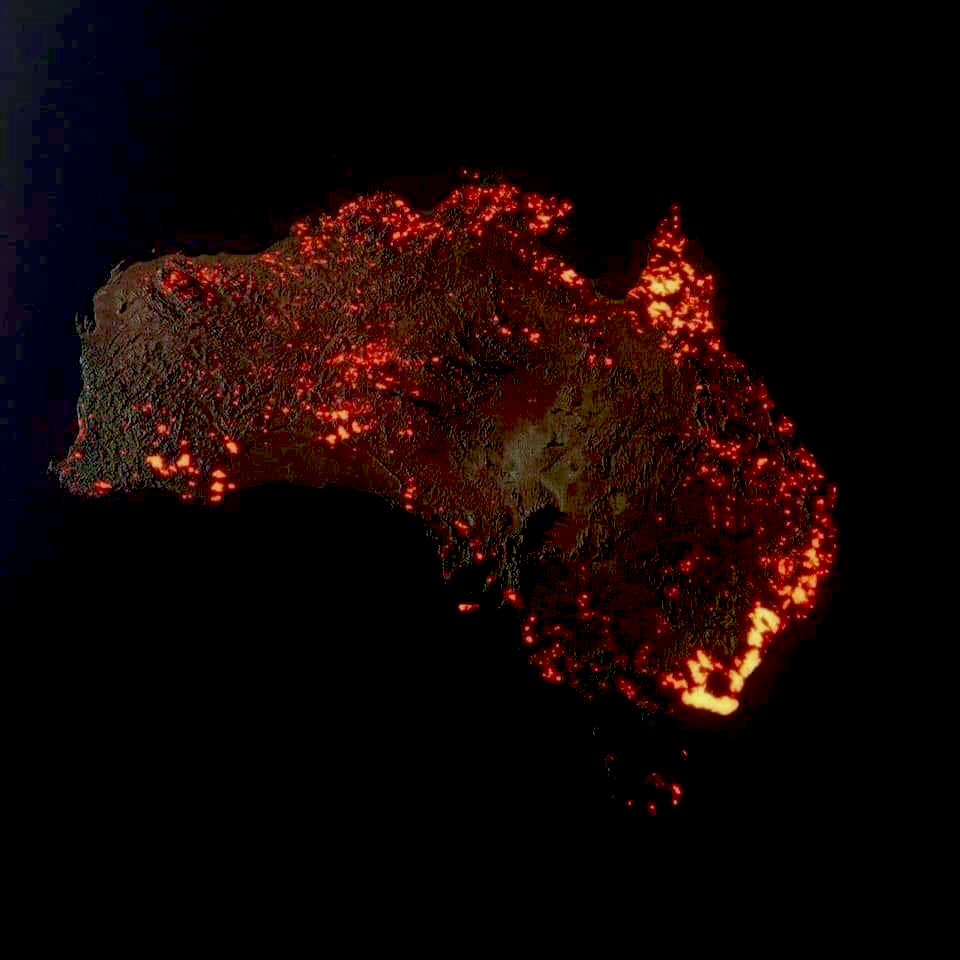 You can check the live coverage here:
Live coverage of NSW bushfires
Live coverage of VIC bushfires
We can talk about politics later. Let's not focus on blaming anyone here and take it upon ourselves to be the leaders that we need to be.
12 million acres of land have been burned.
We have lost 480,000,000 animals.
Koalas are believed to be one of the species hardest hit because of their slow pace, and their diet consisting solely of eucalyptus leaves from trees filled with eucalyptus oil, which are highly flammable.
We have lost 30% of the Koala population.
1,200 homes have been destroyed and 23 people have lost their lives.
Even a small help from every one of us would mean a lot to the affected humans and animals.
New South Wales
Donations to the NSW Rural Fire Service directly benefit the volunteer firefighters on the frontline. To help, you can contact your local brigade directly or donate here.
Victoria
For those interested in supporting the efforts of Victorian firefighters, you can donate to the state's Country Fire Association here.
Vinnies
The St Vincent De Paul Society is also running a bushfire appeal, to help those affected rebuild their lives with food, clothing, furniture, other essentials, and funds to pay bills.
They explain exactly where your money could go:
• $50 "can provide food for a family who have been evacuated from their home."
• $150 "can help with bills and unexpected expenses for a household recovering from a bushfire."
• $300 "can provide clothing for a family who've had to leave their belongings behind."
• $1,100 "can help those whose homes have been damaged or destroyed to set up again with bedding, furniture, and appliances.
You can donate at any Vinnies store or head here.
WIRES
To help the NSW wildlife victims, you can donate to the NSW Wildlife Information, Rescue and Education Service (WIRES) here.
Port Macquarie Koala Hospital
More than 2000 koalas are feared to have perished in NSW since September.
The Port Macquarie Koala Hospital has raised more than $2 million for the wildlife affected in that area, with the initial aim of using the money to distribute automatic drinking stations in the burnt areas to help in koala and wildlife survival.
The organization is now sharing the funds with other wildlife organizations in the fire-affected regions across NSW. You can donate here.
The Salvation Army
The Salvos have launched a disaster appeal to support the communities affected by the devastating bushfires.
"Our teams are providing meals to evacuees and frontline responders and will continue to provide whatever support is needed as the situation develops," said Strategic Emergency and Disaster Management general manager, Major Topher Holland.
To donate to the disaster appeal, you can call 13 SALVOS (13 72 58), donate at any Woolworths checkout, or donate online here.
Australian Red Cross
The Australian Red Cross have launched a joint disaster appeal with the ABC to support the communities affected by fires and have raised more than $2 million already.
While they are heartened by donations of food, clothes, and people offering to open up their homes, Red Cross says they're not in a position to take and distribute these items.
"Our experience with emergencies shows that donations of money, where possible, help affected communities recover soon," the charity said.
"Our specialist emergency volunteers are providing psychological first aid, working at evacuation centers and helping people to get in touch with their loved ones."
Givit
Charities like Givit specialize in goods, where the exact items people need are listed via charities and the public can match that or register the items they have, in case someone has a use for them.
Givit is currently running two specific campaigns supporting NSW and Queensland bushfire victims.
Foodbank
Foodbank is delivering emergency food relief and water to East Gippsland, helping firefighters and local communities caught up in the bushfires.
It is fundraising to send about 5,000 food relief hampers in the coming days.
You can donate here.
Gippsland Emergency Relief Fund
The Gippsland Emergency Relief Fund was established in 1978 and is operated by local volunteers for Gippsland communities affected by natural disaster events.
Donations can be made via Paypal at gerf.org.au, at any branch of the NAB across Australia, or in person at Alan Wilson Insurance Brokers at 40 Argyle St, Traralgon.
Bendigo Bank Bushfire Disaster Appeal
Bendigo Bank have partnered with The Salvation Army to establish an appeal that will raise funds for fire-affected communities including East Gippsland, Hume, southeast New South Wales, and Adelaide Hills.
You can make a donation here.
GoFundMe
GoFundMe pages have been set up for the Victorian communities of Cudgewa and Mallacoota.
Airbnb
Airbnb have set up pages to share free accommodation for people who are evacuating the fire zones. Find emergency housing or list your property via the NSW or Victoria page.
Free accommodation will be available until 16 January 2020.
National Australia Bank
NAB has announced a $1 million fund to help people affected by bushfires across Australia.
In recognition of the scale and severity of the bushfires, NAB has created the $1 million Disaster Relief Fund to give customers and employees displaced from their homes ready access to cash, as well as support in the months ahead as communities rebuild homes and businesses.
NAB customers who have lost homes this bushfire season can immediately access $2,000 grants to help cover costs such as temporary accommodation, food, and clothing.
For information on how to access the grants contact the NAB Assist team on the dedicated number 1300 683 106 (8 am-8 pm Monday to Friday; and 9 am-1 pm Saturday AEST/AEDT).
NAB employees who have had to evacuate their homes can also access a $1,000 grant.
The $1 million Disaster Relief Fund is in addition to the $250,000 already committed to bushfire affected communities in NSW, SA, and QLD in the past two months. The fund will also be used to provide ongoing support during the rest of the year, as the scale of the impact of these natural disasters on people and businesses becomes clearer.
For more information, click here
Holding a fundraiser
You can also hold a fundraiser for the fire authorities, or donate to a fundraiser.
However, the NSW RFS advises that you should donate only to verified fundraisers. That's also true for those setting up fundraisers – get authorization from the RFS first.
"It's important that fundraising activities are conducted in a way that is transparent and aligns with the values of the NSW RFS," they told Guardian Australia.
To hold a fundraising event, you should email them at executive.support@rfs.nsw.gov.au.
You'll also need to provide information on your group, how you will raise funds and what portion will be donated, and the specifics of any item being sold or donated.
"The NSW RFS may place restrictions on the use of its insignia (which includes its name, logo or imagery) for legal reasons, and any use of the insignia must be expressly approved," a spokesperson said.
"So that the community can be assured that fundraising is legitimate, unless undertaken by NSW RFS brigades members, the service does not support fundraising activities that solicit donations from members of the public beyond members within your registered business, group or association."
The RFS said it had been flooded with requests to hold fundraisers, so it might take some time to respond.
The Victoria CFA also has a fundraising kit here, with information on how to host one.
Enquiries can be directed to cfapromotions@cfa.vic.gov.au or 1800 232 233.
Helping the recovery
What about for areas that no longer have active fires, but have been hard hit? There is a range of ways to help.
You can donate to some of the charities who routinely help with recovery: the Red Cross Relief and Recovery Appeal, St Vincent de Paul or the Salvation Army.
You can also donate, provide items or volunteer at specific evacuation centers – a list can be found here. In general, it is always better to give money to the charities that organize assistance, rather than donating in kind, unless there is a specific request for certain items, or if you have checked in advance what may be required.
Each center may have different needs, so it is important not to arrive unannounced with goods to donate.
Volunteering
Queensland Fire and Rescue also advise that you can volunteer your time to the bushfire effort.
"The best way you can help is to check on the safety of your loved ones, neighbours and friends and help them however you can," it says.
You can also formally register as a volunteer at Emergency Volunteering. You can also call Volunteering Queensland on 1800 994 100.
Please make sure you share the post and help in spreading the message to as many as possible. Every donation counts.